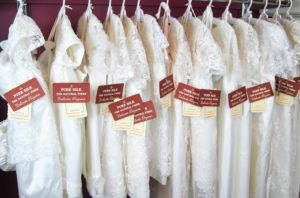 Delicate Elegance is an international wholesaler of christening and baptism wear for children and babies.  Wherever you are in the world, if you're interested in stocking our designs, please get in touch today!
Stock our designs
Becoming a Delicate Elegance trade customer is simple. All you need to do is fill out the form below, including:
Your contact number(s) with country code: We'll give you a call to discuss this opportunity with you further.
Your business' full address.
Your intentions: How do you intend to sell our products (in store, online)?
Information about your business: So we can make sure your business is right for us.
Any questions you have about this opportunity. 
We choose our stockists carefully. We want to make sure you will be able to successfully represent the Delicate Elegance brand. We want to build a fruitful, long-term relationship with you, as well as protecting our existing family of resellers. Once we're sure our businesses are the right fit for each other, we'll give you all of the help, information and support you need to start selling Delicate Elegance in your store.
We know our market, and we're sure you do too. This is why we want to work with you to promote you as a Delicate Elegance stockist, and to grow awareness of our brands locally and internationally.
We look forward to hearing from you!
Get in touch