Are you based in Europe? If you're are interested in selling our unique designs in your store and you'd like us to visit you with a selection of samples, please contact us now and book an appointment for us to come and see you!
Key dates:
17th – 20th September 2018: We will be in France, visiting the TexWorld Paris Fabric Fair & potential stockists in Paris.
21st September – 4th October 2018: We will be visiting stockists and potential stockists around Europe.
*****
Meet Our Team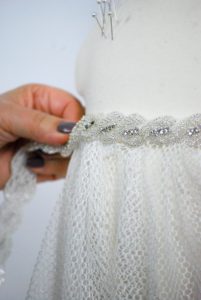 A quarter of a century. That's how long we've been designing, producing and selling our timeless range of children's christening, baptism and special occasion wear.
Our story began in 1990. Noticing the lack of variety in the christening wear marketplace, husband-and-wife team Filomena and Vittorio Piacente decided to create their own unique, finely-crafted collection of christening gowns, dresses, rompers and outfits. And that's what they've been doing ever since.
Today, Delicate Elegance designs are sold in specialty christening and childrenswear retailers in all four corners of the world. Our philosophy is simple: we focus on finding the purest natural fabrics and creating exquisite, comfortable, durable designs which will weave their way through each new generation of your family.
It's these values that lie at the heart of every cut, stitch and seam. And this is what makes us stand out to stockists and parents alike.
A commitment to quality
Each and every Delicate Elegance and My Boy garment is cut, sewn, beaded and embroidered by our amazing, small team of seamstresses, so we know we have full control over the quality of our christening wear – and we make sure that our designs are made to the highest possible standard.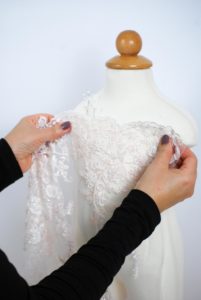 We test all of our silks to ensure that our silk gowns, dresses and rompers are made from 100% natural silk, as well as using 100% cotton and 100% linen for our timeless boys' range, My Boy. Our designs are adorned with exquisite details, from bridal-quality lace to Swarovski crystals.
Delicate Elegance is proud to be an Australian company and we are listed on Austrade's (Australian Trade and Investment Commission) Australian Suppliers Directory here.
Our amazing team
Thank you to everyone who has helped Delicate Elegance to grow and become what it is today: thank you to every stockist, every customer and all of our amazing seamstresses!
If you'd like to sell our beautiful christening gowns, dresses, rompers and suits in your store, we'd love to hear from you, so please get in touch.
Filomena & Vittorio